Putting Syd in my office led business to BOOM! My schedule has since been completely full with a waitlist. Every day I come in and wink at Syd knowing the magic he brings.
Dr. Kelly Matthews L.Ac.
Syds are selling like crazy and we've also noticed that wherever we put him, everything around him sells as well.
Carmen, The Grand Salon
We absolutely love having Syd in the store. The minute he arrived all the positive energy started flowing into the store. He is fantastic.
Diane, My House of Style, Michigan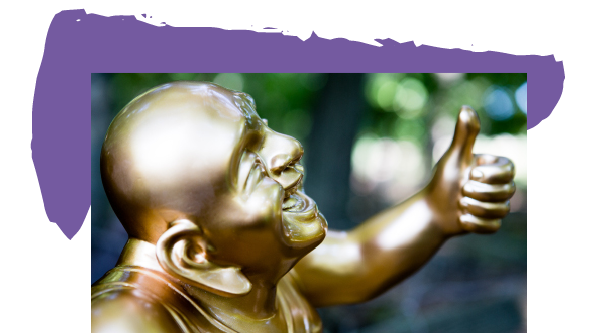 The Suburban Monk's cornerstone product is a unique, jolly thumbs-up statue named Syd, who radiates a joyful, blissful presence.
Little Syd comes in 14 exciting colors, each complete with its own color meaning card. Little Syd welcomes possibilities, is a perfect traveling companion and is even used as a ring holder.
Big Syd comes in 2 beautiful colors, Stunning Gold or Clean White, and is fully weatherproof. He is the perfect addition to any home, garden, meditation studio, or business.
Designed for women and men, Live.Laugh.Malas! are all made with the highest calibre stones as well as lots of good vibes! They come in four themes: Beauty, Open, Wealth and Spirit.
Join The TSM Affiliate Program

We invite you to #GetMonked as a TSM Affiliate. We're creating a life that makes sense, feels good and is so much fun!
With all the amazing things happening we are excited you have chosen to share Syd and other TSM products with the world via The Suburban Monk Affiliate Program!
Below this paragraph, you will see a short registration form and for the Affiliate FAQ Page click here. Please let us know if you have any other questions via phone (973) 446-5575  or email us at [email protected] as we are standing by to be of service! Thank you!