Have you heard? A wave of joy is spreading across the world and a laughing monk named Syd is at the forefront. Join the movement today!
Create a Wave of Joy with Syd
Play Syd Forward, and allow the magic to reach beyond what you could ever imagine…
The Suburban Monk is on a mission to Play Syd Forward to as many people as possible, and we invite you to be involved! Whether you Play Syd Forward to one or many, your willingness to share joy can start a ripple effect that reaches around the world.
Some Play Syd Forward Moments
I alone cannot change the world, but I can cast a stone across the waters to create many ripples. Peace begins with a smile.
Mother Theresa
Purchase Syd and Change Someone's Life Forever
How many people will you monk today?
Send Someone a Syd
Create a wave of gratitude when you gift Syd to friends, community, everyday heroes.
Shop Now
Shop Now
Buy More, Save More
Save 15% by gifting 15 or more Syds to events, schools, employees, clients, corporate gifting.
Gift Many Syds
Gift Many Syds
Leave a Monumental Legacy
Contribute to Playing Monumental Syd Forward as a beacon of hope and joy for inspiring causes. 
Contribute Now
Contribute Now
Who & Where to Play Syd Forward to Ideas…
Individuals your friends, favorite barista, house cleaner, nanny, bank teller, or even people you don't know.
Families Your neighbors, your co-workers family, a new mother and her baby, a father who works hard.
Schools Teachers, entire classes, custodians, bus drivers, principals, office staff, school board, PTA members.
Everyday Heroes nurses, law enforcement, fire fighters, first responders, cross walk attendants, volunteers, teachers, coaches, and more.
Special Occasions & Events Parties of all kinds such as weddings, birthdays, anniversaries, graduation, fundraisers and benefits.
Client & Employee Gifts For holidays, milestones, corporate gifting, gratitude & appreciation, just because.
Organizations The staff, volunteers, and/or customers of your favorite non-profit, charity, or business.
Sports Teams, Performers, and Artists For luck, fan gifts, and more.
Public Spaces Become a Play Monumental Syd Forward Visionary who Inspires.

Yourself … When you buy for yourself, you're also Playing Syd Forward!

You Name It… It's up to you. The sky is the limit.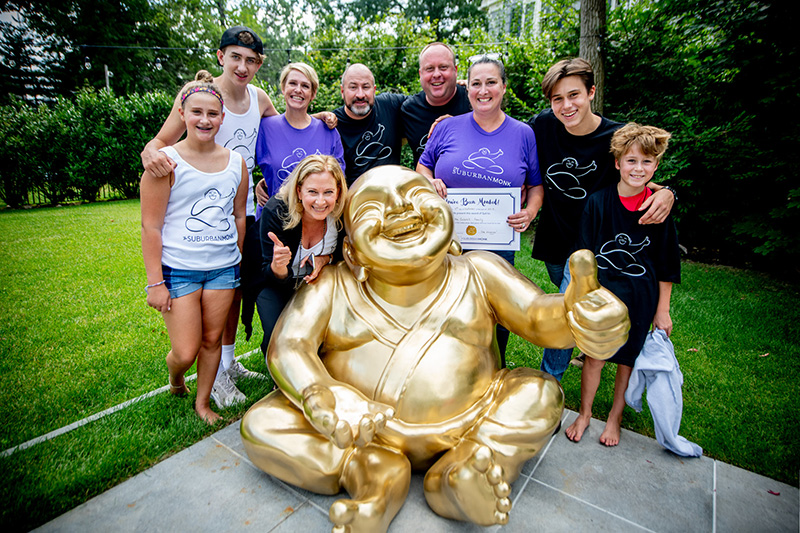 Join the Play Syd Forward Movement as a Visionary Who Inspires

Imagine Monumental Syd at a children's hospital, metropolitan transit hub, learning center, a city center rebuilt after natural disaster, an olympic village … all places where anyone who visits or wanders by is invited to recharge, meditate, set an intention, make a new friend, simply smile, or joyously touch into peace as they move along. These are the tiny yet monumental moments that leave a legacy of love.
Contribute Now
Contribute Now