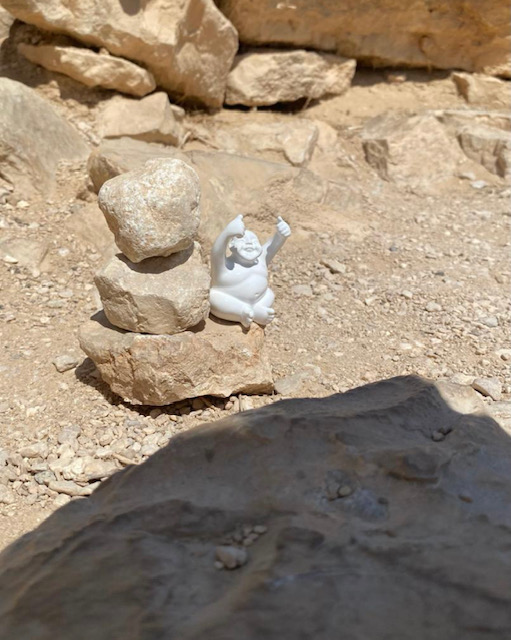 "This being human is a guest house. 
Every morning a new arrival." 
Rumi- The Guest House 
Hi Everyone! 
We're back from Israel! What a trip! 
I can't find the words to describe how special it really was. It's more of a feeling, a flow of deep emotions… and I welcomed each and every one. 
It reminded me of the poem, "The Guest House", by Rumi. Do you know it? In the poem, Rumi speaks so beautifully about how important it is to welcome every emotion and feeling, dark or light, as if they were guests in your house. To invite all of them in with love, gratitude and laughter. Kind of like all of the beautiful colors of our lives. 
Israel was that. In fact, my husband read that poem to our group of friends, while sharing a meal on our last day.
I don't think I wore half of the shoes I packed and I didn't purchase a single gift for anyone. But, I brought home gifts far richer than money could buy. Gifts I will carry in my heart forever. 
I was able to take a mud bath, set an intention in the Red Sea, float in the Dead Sea, and travel to magical, mystical places that looked like movie sets. I even renewed my wedding vows. Can you believe that?
When you think of renewing wedding vows, you might imagine a beautiful dress, flowers, and of course a fresh blow out. Nope. I renewed my vows covered in sweat, with a hiking hat trying to hide my matted hair, and not a drop of lip gloss in sight. What happened to Ellen? 
Israel allowed me to really be ALL of me, like the time I tried to high five a rabbi and didn't realize he's forbidden to touch another woman. Whoops, that one didn't go over too well. 
There were 8 in our group… all friends with different beliefs, backgrounds and stories. We all grew closer with each passing day,  as our openness turned our friendship into something more profound. It was a shift that was impossible not to notice. Of course, I gifted each friend a Syd and they were very touched by his energy. 
Meanwhile, in the Hamptons… big Syd was all glammed up and being featured in an art show. More on that in my next email. I still need to get the details. He's more high maintenance than me these days.
I need to recover from my jetlag, get a good manicure and crank up my air conditioning! 
'Til next time! 
Love and magic, 
Ellen and Syd 
xoxo