Hi, Hi! It's kind of ridiculous how much I love you.
I had a milestone birthday last week. I actually don't like attention on my birthday, it's the introvert in me. But, I have to say everyone made me feel so good, so loved. I was texting with one of my besties way after my bed time and she said, "It's kind of ridiculous how much I love you." Something about the way she said it both cracked me up and filled up my heart with such joy. Isn't that a great line?
My husband wins the award because he's planning to build me a magical little cottage and got me drawings from the architect. Even the drawings were wrapped in magical copper ribbon, with copper wire to hang them. It's my own little "she shed", or should I say, "Syd shed." It has a little bridge in which they wrote, "Cross over the bridge into another realm". OMG is that unbelievable? I can not wait to create magic in that little cottage!
It is so funny because in my BS life (LOL) , that would be "before Syd", I didn't think of myself as creative. My idea of creativity was putting a column in an Excel worksheet in a creative place. Seriously. I even had Excel sheets for Hebrew school with snack assignments included. Yup, the Virgo loved those worksheets. I was just never one of the people that did anything "creative". Or, so I thought. I never took an art class etc.., not a single one. Ever.
But, I went on to create a statue named Syd. I mean isn't that just crazy?
And, next week, I am being interviewed by a woman whose signature question is, "What makes you such a powerful creator?" I'm still working on the answer, but I'm learning to step into this title. Going from a CPA to a "Powerful Creator". I think that whisper is getting louder.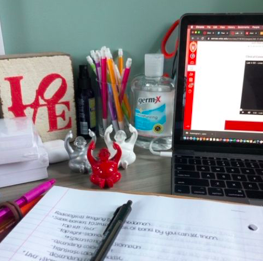 What I know now is that we are all creative. Seriously, if this CPA created Syd, the possibilities are endless for all of us. And not only do I believe we are all creative, but I'm discovering that each time I trust my creative instincts, more creativity is sparked. Trust me, it is so cool.
I now have two new phrases added to my magical box. One is, "Powerful Creator" and the other is "It's kind of ridiculous how much I love you." Not sure why, but that is OK. It doesn't have to make sense… there are no rules. If something gives me that "ping" it goes into my magic box. Something amazing is brewing in there. I can just feel it.
Also, Syd is so excited… his thumb is shaking. He can't believe how many kids have included him in their "back to school" routines.
Whether away from home, or at your dining room table, Syd is so happy to be learning and cheering you on! There is still time to nominate a teacher to win a Syd! Just email me with the person's name. We have many nominations already and can't wait to reveal the winner!
Until then… I love you. Syd loves you. We can do today!
Ellen & Syd
What has sparked your creativity recently?
Please share. I could discuss these things all day.
#GetMonked #LiveLaughMonk