I went to a corporate-type event last week, and the memories of my working life before creating my business flooded in. . . sitting in a chair at my desk for the whole day in business suits with perfect makeup and hair, pantyhose in 90-degree heat . . . Seriously, how on Earth did I handle it?!
As I sat there all cleaned up (meaning: my hair wasn't in a ponytail or yoga pants), I had an unexpected thought: If I had to, I could do the corporate thing again. It was surprising because many times I've thought that if I had to go back, I wouldn't be able to pull it off. Realizing that, if I needed to, I could power through it (this time with kundalini yoga instead of coffee!) brought a sense of freedom and also a thank-goodness sigh of relief. In that moment, I was able to meet my past self and thank her for leading me to my present self who sat there at the event, full of gratitude because the decision to leave corporate after 30 years was the right one.
Looking back, the hardest part of those last years in corporate was summoning the courage to quit. It's not that I hated my job; for many years, I loved the feeling of working on my spreadsheets (#truth). The day flew by and I got paid well. Yet something started to happen in those last years. My soul was knocking, saying we have more to do and experience and create but I didn't use those words then. I had no idea why I needed to quit, but I didn't want to get to the end of my life not discovering what else was out there. Now I understand why.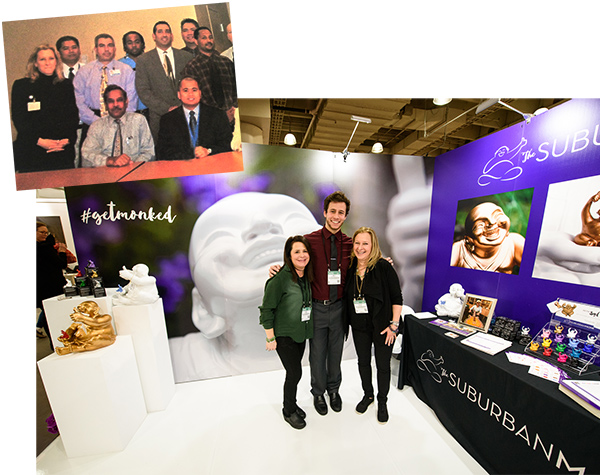 Ellen then working in corporate and Ellen now with her TSM team
There was more I was meant to do. I was supposed to create a life that makes sense, feels good and is fun to live. And beyond that, I was supposed to create a business that gives back in challenging times. My time of wearing suits and pantyhose was over. My time was up in thinking creativity meant finding a new place to put a column in an Excel spreadsheet. My time was up with finding security within the walls of the corporate machine.
I'm so glad that I stepped out – even with no logical reason – and created a new chapter in my life. Even with a puppy that takes so much time (he is so cute, right?) and one of my sons at home after graduating college, I feel so free. Free to say yes or no to whatever my heart is telling me.
Have a happy July 4th and may there be freedom for everyone.
PS: The Suburban Monk Giving Back charity this month will again be TogetherRising.org as they continue to give 100% of the funds currently to the helpers on the ground: heroes who are out searching for children flown all over the country – some of whom are too small to know their own names. Buy the Freedom Syd Set and help support them.
What does freedom mean to you?
Please share. I could discuss these things all day.
#getmonked #LiveLaughMonk