I don't know about you,
but Syd and I are feeling…
As much as I love all of my little Syds, Optimistic Orange is very close to my heart. I love how bright and fun he is!
Orange is uplifting and rejuvenating.
Orange brings spontaneity and positivity.
Also, I have a very special story with Optimistic Orange Syd…
A few years back, I hosted an engagement party for my niece. The first person to arrive was a nice guy named Dan who was really interested in TSM and Syd. Since none of the other guests were there yet, I brought him down to my office and the crawl space where I keep Syd (yes, I actually brought him into the crawl space ????).
He asked questions such as my definition of spirituality, etc. I was my silly, vibrant Ellen and chatted about how my version of spirituality will always include playfulness, joy and fun! I remember he just stared at me with this curious look until the doorbell rang and more guests arrived. I excused myself to be a good host.
A few hours later, Dan came up to me and said that he was off to see the Dalai Lama in the next few days and could he bring him a Syd?
Right then I swear I had an out of body experience!
He was on some board about spreading peace around the world… I mean, what?… and part of his work was spending time with the Dalai Lama.
We went back to the crawl space and he took some time with all the colors.
Then he chose Optimistic Orange Syd and thanked me.
As soon as he left, I ran to my husband Chick.
"You won't believe what just happened!" I said.
Chick listened to the story and then said, "Ellen, you know he didn't pick Optimistic Orange because of the word Optimistic in it? It's because of the saffron robes they wear."
"Of course! I knew that!" I said and then my brain replied, Whatever. ????‍♀️
Dan's girlfriend sent a text a week later and said that he wanted me to know that the Dalai Lama loved Syd.
The Dalai Lama had held Syd in one hand and with his other hand pointed as he joyfully said, "Oh! Laughing Buddha!"
Oh, how I wish I had a picture of that.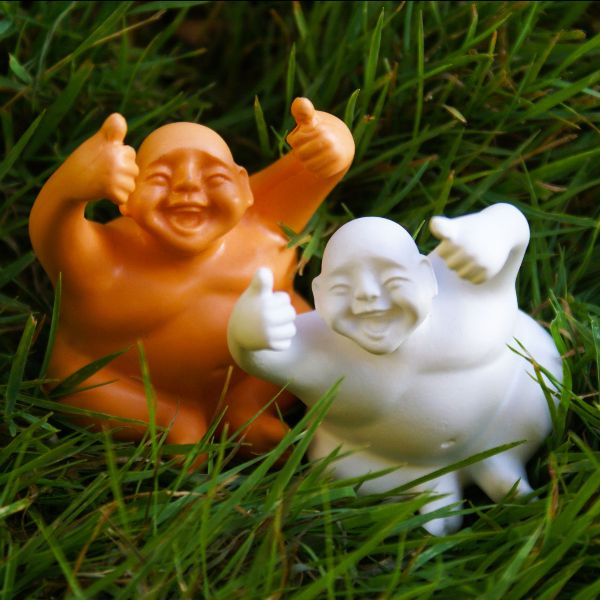 I can't think about Optimistic Syd without imagining the Dalai Lama pointing at him and laughing.
I hope your June is filled with lots of joy, optimism, and laughter just like Optimistic Orange Syd!